Australia's leading anonymous reporting system for employees to speak up
Tackle workplace sexual harassment, discrimination, fraud and employee misconduct safely and transparently
Protect whistleblowers with secure, anonymous reporting software
Respect at Work: Be compliant with positive duty obligations
Provide early visibility of issues affecting your team and business
Take a stand against workplace sexual harassment, discrimination, and fraud with Elker, the anonymous reporting platform. Stay compliant with Respect at Work guidelines and safeguard your organisation's integrity.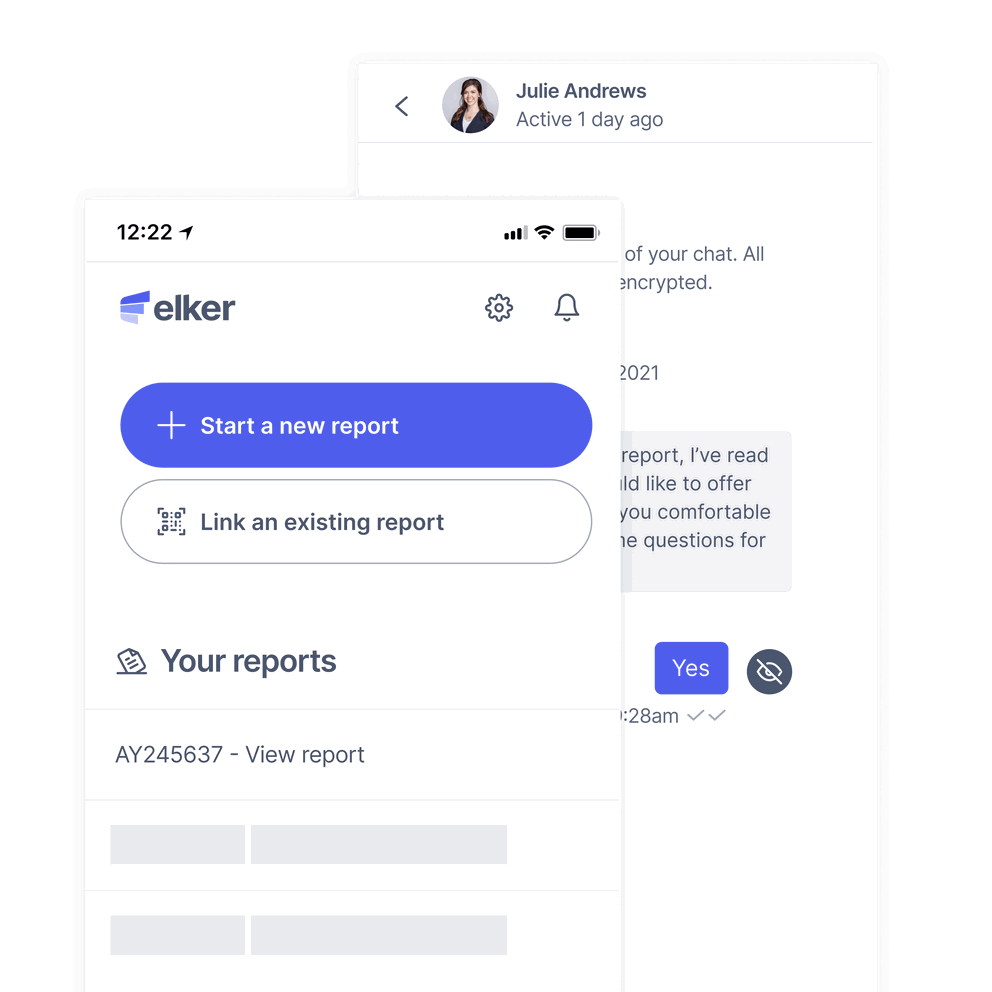 Building trust and transparency with
Reporting tools for feedback, support, early intervention and whistleblowing
Elker offers a secure channel to capture disclosures, identify whether whistleblower protections apply and manage the case through its lifecycle.

From ethics hotline and whistleblowing to early intervention
Elker's web portal and iOS and Android apps allow your employees to reach out and share what's on their minds. Identify suggestions and minor concerns through to serious misconduct in the workplace. Elker allows you to resolve issues quickly and improve employee happiness and company culture.

Privacy and anonymity
Users can choose to remain anonymous or for reports to remain confidential. They can nominate a colleague to report with, upload evidence, and chat through a secure 2-way message service. Elker guides all parties through the process to ensure privacy and safety.

Comprehensive triage options
Users nominate the reporting pathway and responder. They can track the progress of their case, decide on outcomes and get alerted to similar issues. Workflows are flexible and customisable for your organisation's needs.

Meet targets with real-time data and analytics
With Elker's analytics and real-time reporting dashboard, you can view trends in your company culture and set organisational targets. Foster a speak-up culture where employees, students and members feel safe.
Use cases
Who uses Elker?
Elker has become the trusted solution for Australian universities, businesses and peak bodies to transform their workplaces into safe and compliant organisations.
Universities
Address campus safety and misconduct with holistic reporting and case management. Join the University of Melbourne and make much-needed changes in your campus today.
Businesses
Eliminate sexual harassment, discrimination and fraud in the workplace with anonymous reporting, cultural audits and case management. Join Solotel, AirRoad and Allens in creating a safe work environment for employees and taking steps toward compliance and prevention.
Peak bodies
Improve community relations and centralise feedback from your members. Join Women's Community Shelter, Victoria Legal Services Board + Commissioner and YoungCare in fostering safe and transparent representative organisations.
Blog
The latest insights on anonymous reporting, Respect at Work compliance, fostering a speak-up culture, and employee misconduct in the workplace.
Frequently asked questions
Interested to find out more?
Get a walk-through of our anonymous reporting platform. See how Elker can help with compliance and build a culture of trust in your organisation. Friendly, no obligations, no pushy sales strategies.