Elker - The #1 integrity line for Australian businesses
As businesses expand, challenges multiply. The need for an effective integrity line is clear. Elker provides Australian businesses with tools to understand their workplace health. Tackle workplace harassment, discrimination and fraud with secure reporting, surveys and comprehensive case management.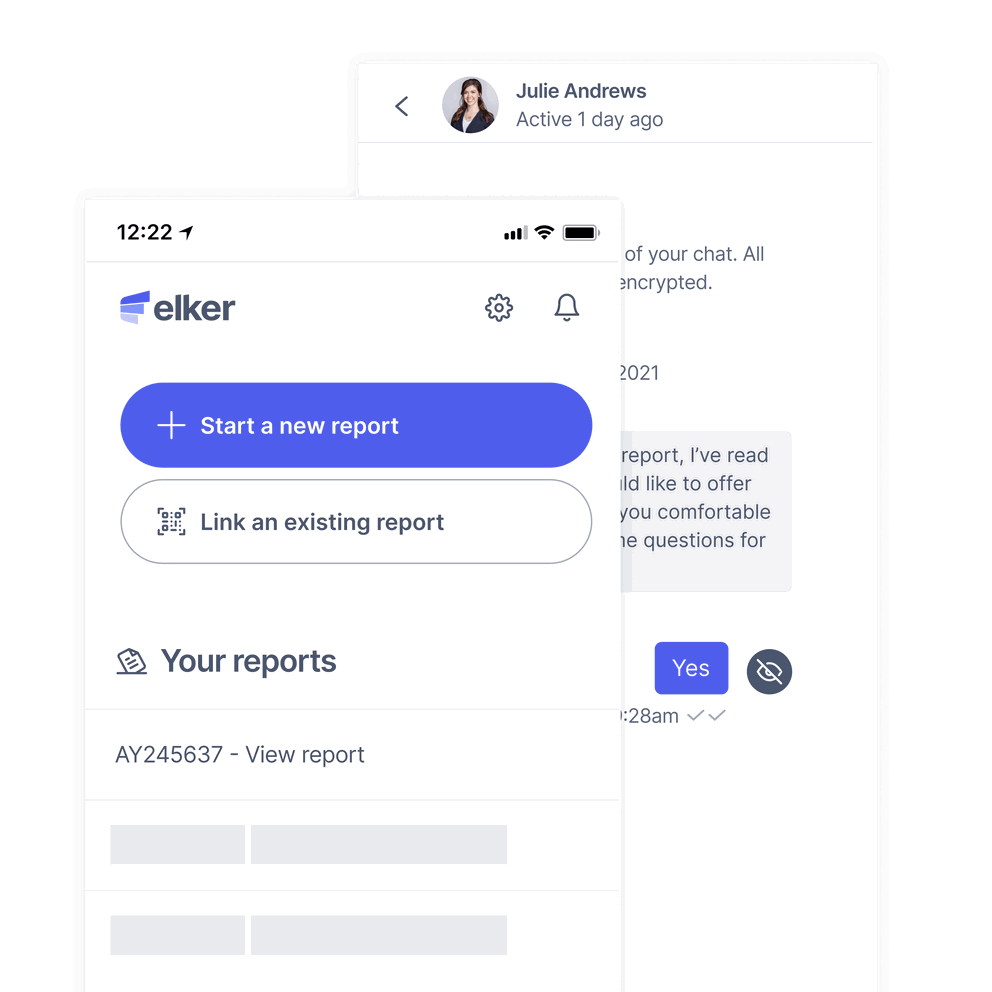 Ensuring compliance with Elker
Elker simplifies compliance for Australian businesses, addressing key legislations and reforms in one platform. In fact, we're the only platform that ensures alignment with all of the following:

Sex Discrimination Act 1984
Meet the Positive Duty requirements with Elker's robust reporting and case management tools.

Workplace Health and Safety regulations
Prioritise psychosocial safety and address concerns proactively.

Whistleblowing & Public Interest Disclosure Act 2013
Seamlessly investigate workplace grievances and issues, ensuring transparency and trust.

Respect@Work reforms
Align your business practices with the latest reforms, fostering a respectful and inclusive environment.
Features
Clear insights. Secure reporting. Safer workplaces.
Elker is more than just an integrity reporting platform. It's a comprehensive solution equipped with secure whistleblowing tools, pulse surveys, and more, designed to ensure Australian businesses remain compliant and foster a safe working environment.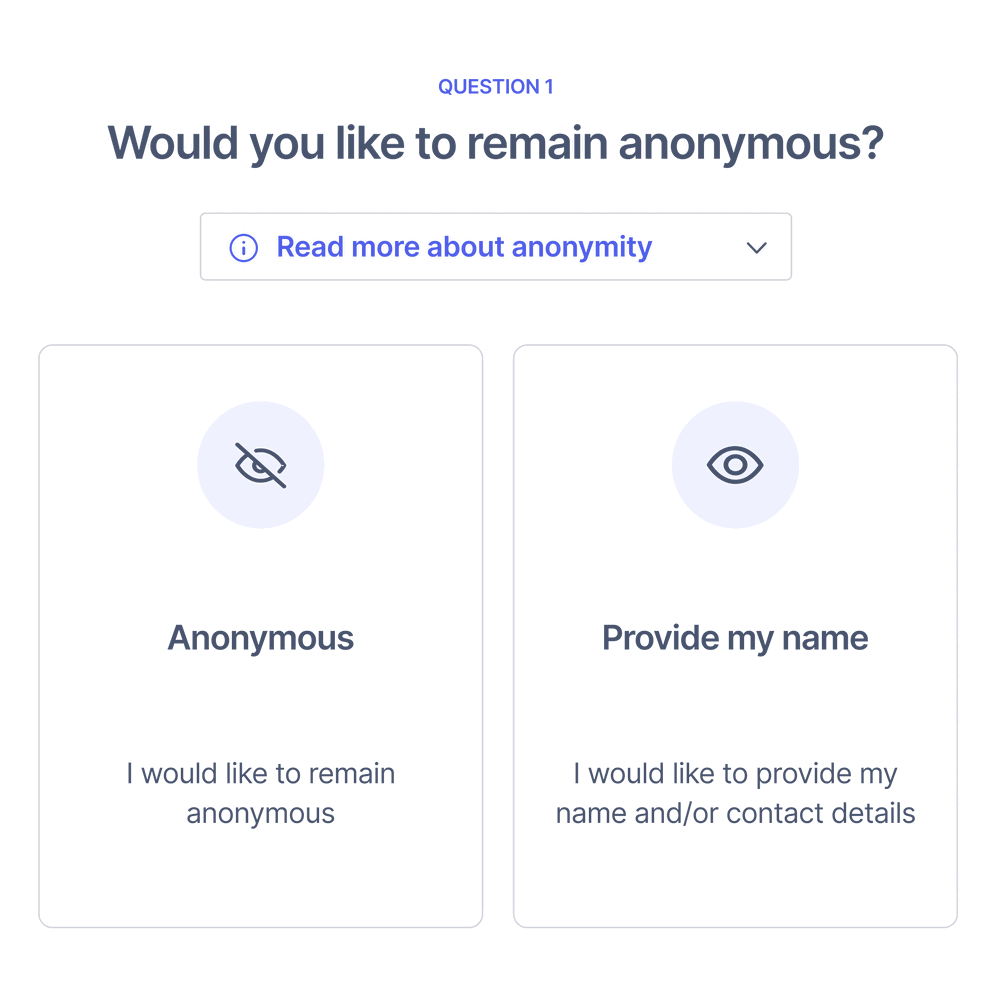 Detect misconduct and resolve workplace issues
Integrity reporting: Elker's reporting features ensures a truly anonymous environment for employees to report harassment, discrimination, and fraud.
Two-way chat: Facilitates real-time feedback and discussions, allowing employees to provide additional information or seek clarity without compromising their identity.
Search & filtering: Advanced tools to sift through reports effortlessly, ensuring prompt responses to critical issues and helping in prioritising concerns.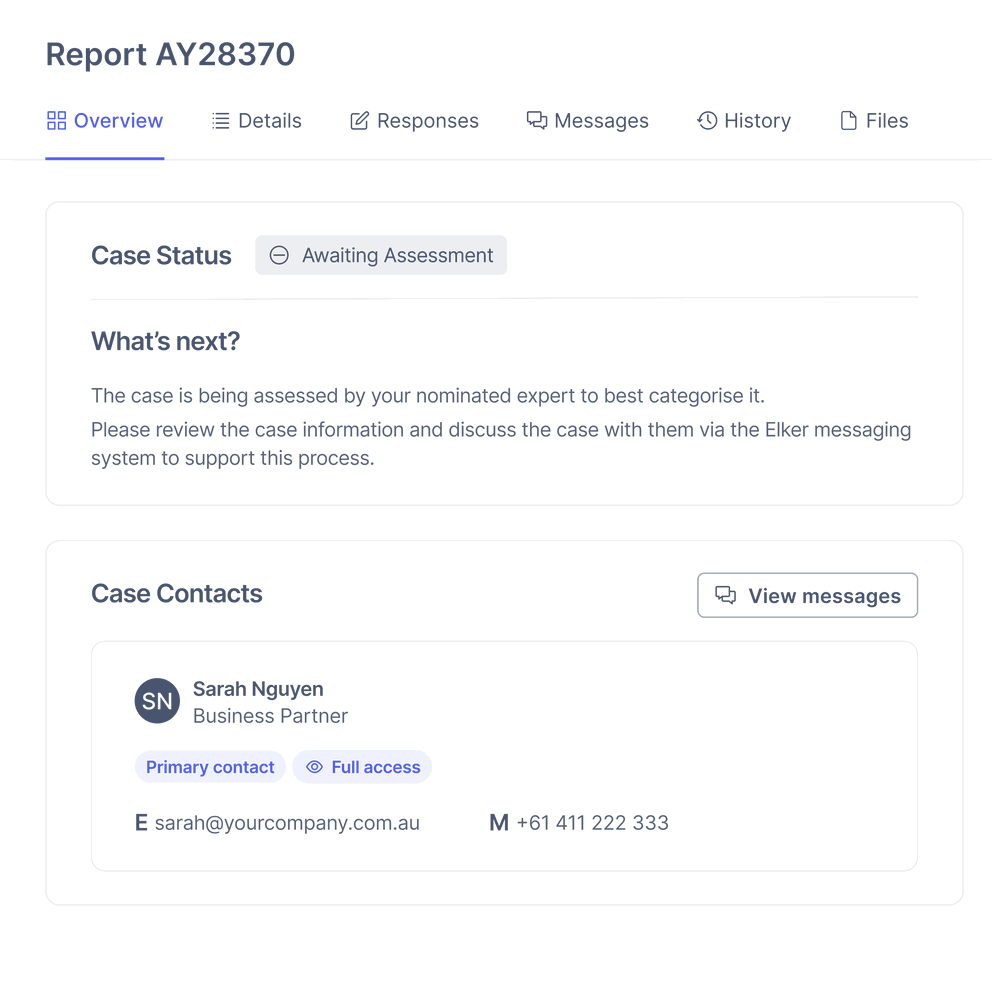 Comprehensive triage and reporting pathways
Case management: Transition anonymous reports into trackable cases, ensuring all reports are addressed and fostering trust within the organisation.
Customisable workflows: Adapt the software to suit unique organisational processes, ensuring seamless integration.
Exportable reports: Simplify data extraction for analysis or sharing, ensuring data integrity with secure exports.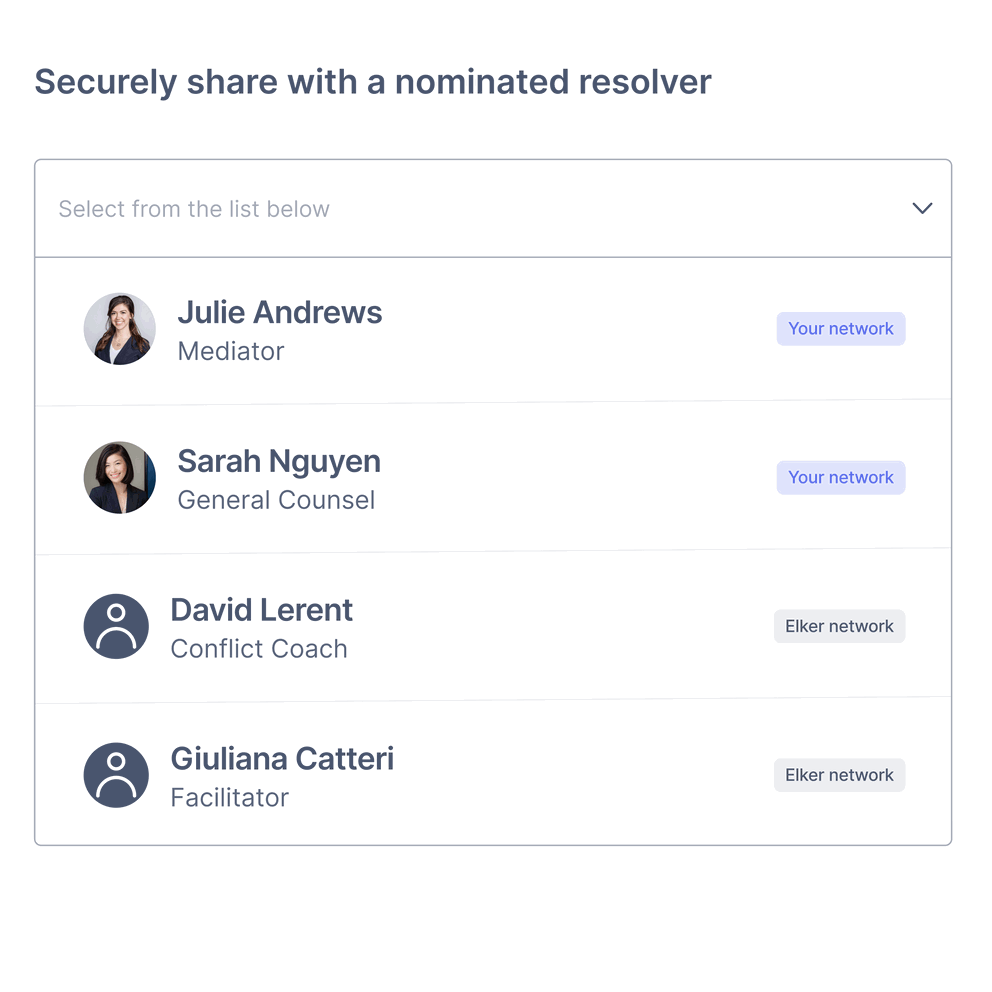 Seamless collaboration with legal experts
Expert assistance: Elker's platform allows for easy sharing of reports with third-party professionals, such as advisors, mediators, or lawyers, ensuring a comprehensive approach to resolution.
Secure data transfer: Ensure that data remains confidential and secure while collaborating with external experts.
Holistic approach: Encourage a well-rounded approach to dispute resolution by integrating the expertise of legal professionals directly into the case management process.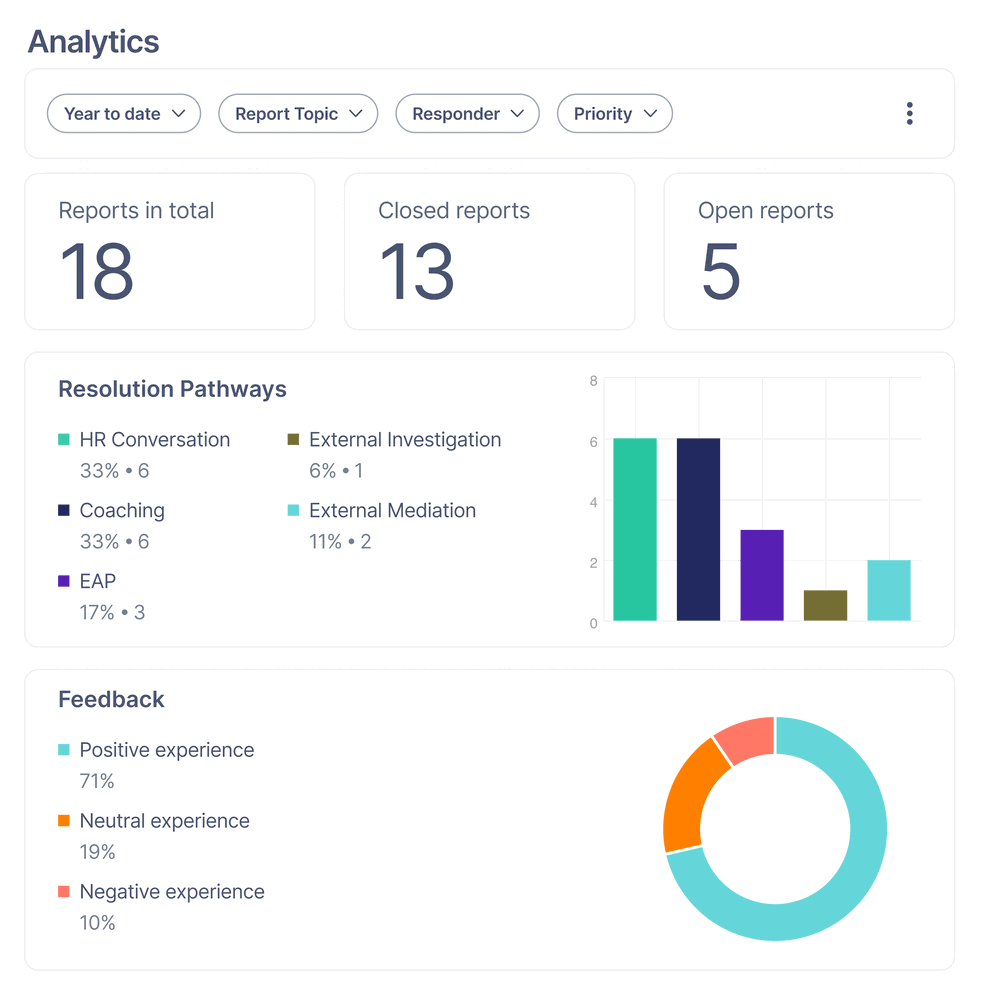 Trends and analytics
Real-time dashboard: Access comprehensive insights into workplace trends, highlighting areas needing intervention.
Data-driven insights: Enhance decision-making and promote a proactive approach to risk management.
Exportable data: Ensure seamless sharing and analysis with data that can be easily shared in a user-friendly format.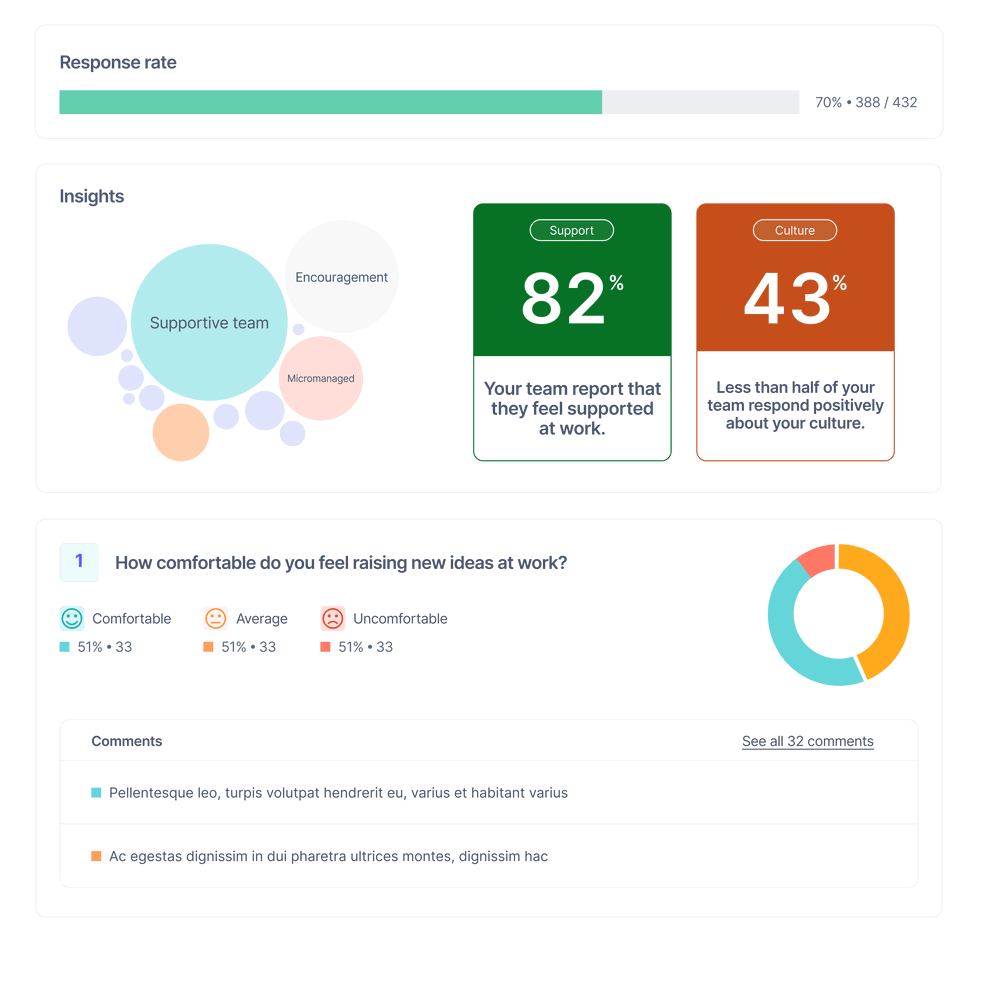 Pulse surveys
Real-time sentiments: Capture the heartbeat of your organisation, understanding employee morale and areas needing attention.
Culture surveys: Facilitate concise and in-depth examinations of organisational culture, driving proactive measures for workplace enhancement.
Feedback and growth: After case completion, short surveys gather insights into case management effectiveness, fostering continuous improvement.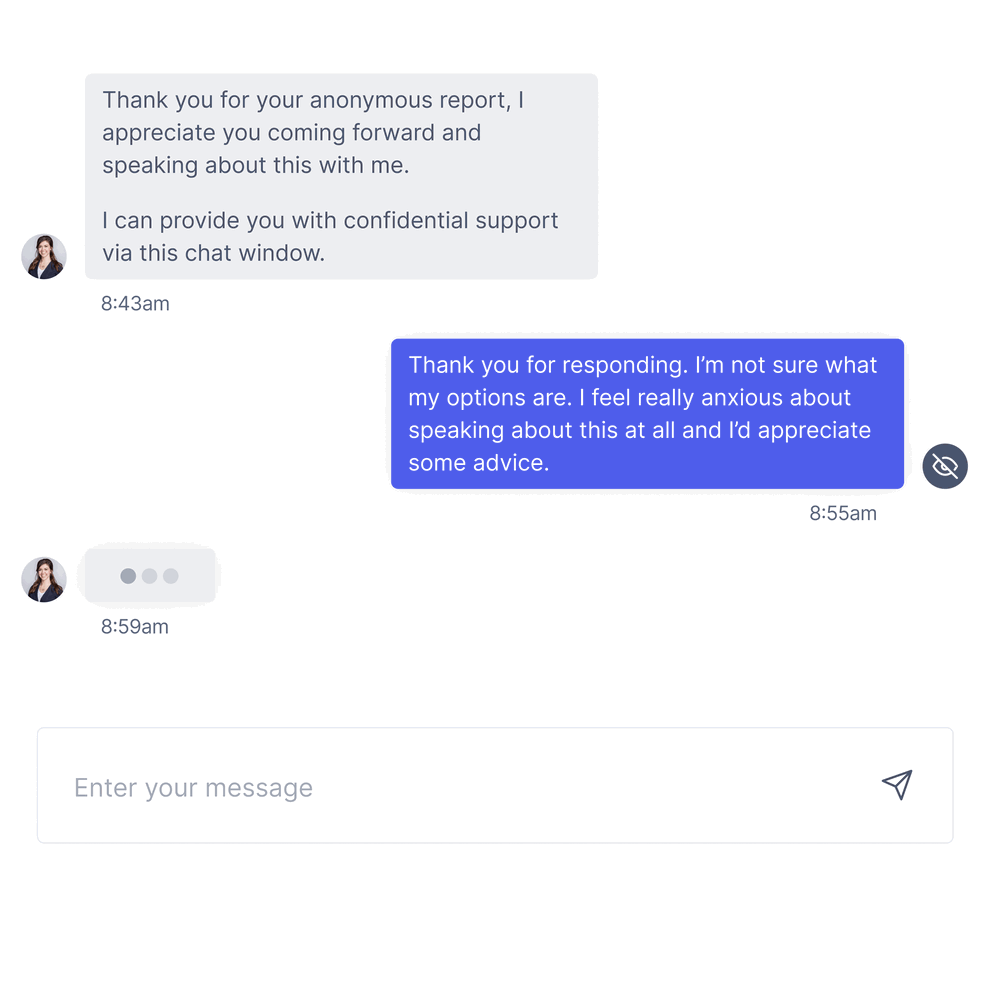 Ensuring anonymity and security
Robust security protocols: Adherence to ISO27001 standards and regular third-party penetration testing ensures vulnerabilities are swiftly identified and rectified.
End-to-end encryption: All data, whether at rest or in transit, is safeguarded using industry-standard best practice algorithms.
Data retention: Custom processes for each client ensure data is retained in compliance with strict legislative standards, with storage within your business's national jurisdiction.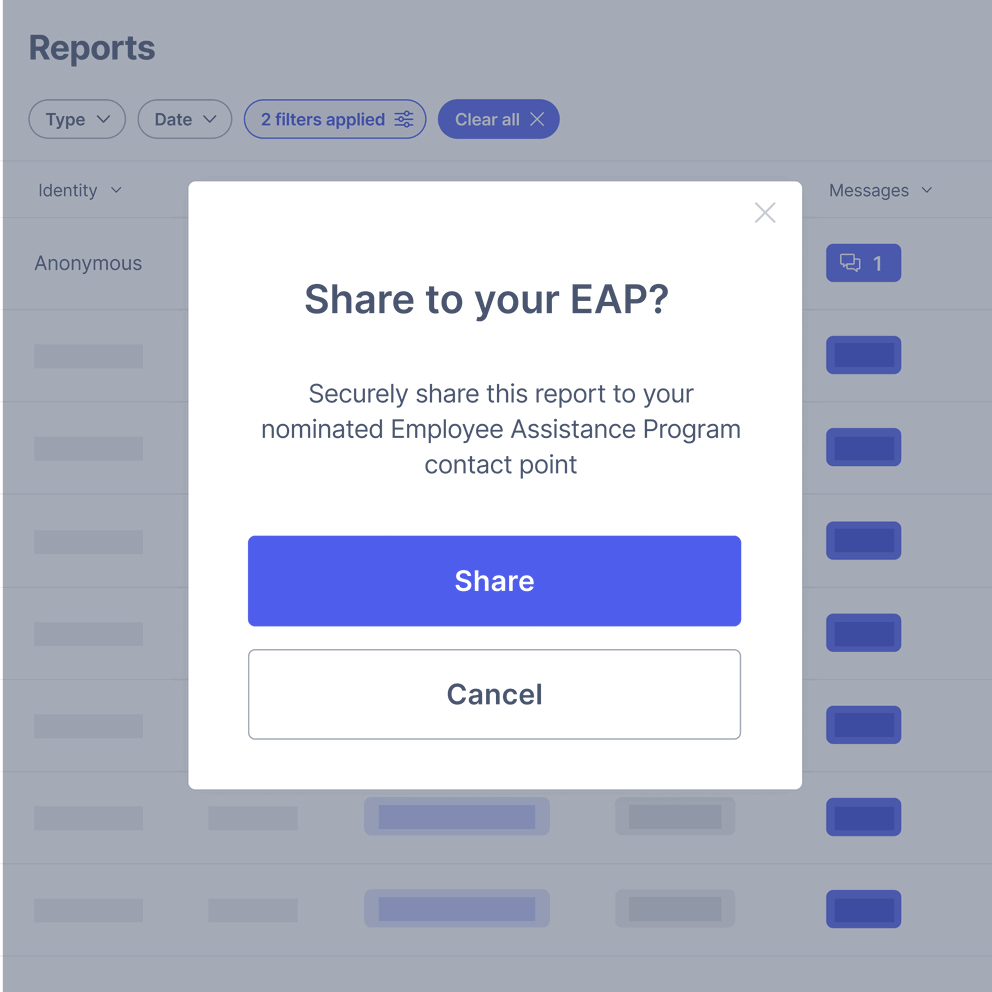 Compliance with Australian workplace legislations
All-in-one solution: Elker is the only platform that ensures alignment with all four major Australian workplace legislations and reforms.
Stay updated: With changing regulations, Elker ensures businesses remain compliant, meeting every regulatory demand.
Tailored for Australia: Designed with Australian businesses in mind, ensuring adherence to the Positive Duty under the Sex Discrimination Act, Workplace Health and Safety regulations, whistleblowing laws, and Respect@Work reforms.
Why Elker?
Safeguarding your business' integrity and trust
Non-compliance, employee misconduct and toxic workplaces can cost Australian businesses significantly. Beyond the immediate financial burden, they can lead to decreased employee retention, with talented individuals leaving for more inclusive environments. Litigation can be costly, consuming resources and damaging a company's reputation. This reputational harm can impact partnerships, customer trust, and market positioning.
Elker offers a solution to these challenges. Its robust integrity reporting platform identifies workplace issues early, allowing businesses to address them promptly and effectively. Implementing Elker is one step toward fostering an environment where employees feel valued and protected. As a result, businesses are better equipped to navigate the complexities of today's corporate world, ensuring resilience, compliance, and continued growth.
Frequently asked questions
Building trust and transparency with
Interested to find out more?
Get a walk-through of our anonymous reporting platform. See how Elker can help with compliance and build a culture of trust in your organisation. Friendly, no obligations, no pushy sales strategies.