Software empowers leaders to act early on problems and ideas
Elker is an innovative software platform that aims to provide secure pathways for people to speak up safely, early and seek support, advice or resolution.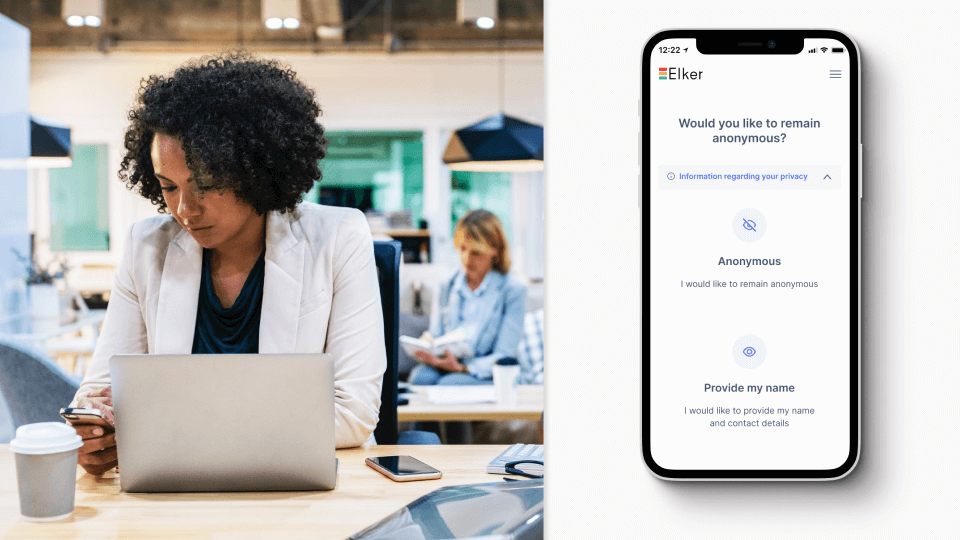 Elker is an innovative software platform that aims to provide secure pathways for people to speak up safely, early and seek support, advice or resolution.
Sydney, Australia (April 11th 2022) – The introduction of the Elker platform is facilitating early resolution and rapid action on issues affecting the modern workforce and complex projects.
The rise of #metoo, wage theft and a skills shortage has made it essential for strategic leaders to have early insight into what's happening on their team. With over 40% of Australians now working from home, and the rise of international collaboration, this need has increased. Elker provides a digital solution that guarantees confidentiality and security for reporting good, bad and ugly to address this need.
Elker replaces dusty suggestion boxes and excessively bureaucratic reporting processes. It enables employees and other stakeholders to raise thoughts, concerns and innovations anonymously. The reporter sends their information to a chosen contact and can communicate confidentially via encrypted chat. Elker provides the interface and templates for pathways that provide support, advice or resolution. The consolidated and de-identified data provides insights for strategy.
Elker facilitates improved understanding, retention of talent and trust.
"Our team of dedicated, passionate and competent staff have gained by the use of Elker as a communication tool within our company" said Norman Same, Managing Director of KNP Solutions an Elker client.
"The directors of our company liked it so much that we have invested in it!"
Elker complements existing tools like Culture Amp which measure overall cultural temperature with surveys, by giving individuals access to support, advice and bespoke problem-solving pathways.
"Elker for me hits a sweet spot. It addresses one of the most pressing issues of today. The team is outstanding, highly motivated, passionate, smart and driven" said serial entrepreneur Neill Miller, co-founder of Zeetings (now part of Canva), and an active investor in Elker.
Elker began as a project of Resolve Advisors, a company with over 25 years' experience in dispute resolution and system design. It evolved from the collaboration of Shirli Kirschner and Jack Murray and has grown into a digital tool for empowering diversity and trust, access to support, advice and problem solving.
Elker has closed its first capital raising and has emerged with smart capital from Australian leaders in technology, accountancy, media, law and high-growth start-ups. The diversity of the senior leadership team, board and investors reflects the inclusive culture that Elker promotes. Post revenue, Elker has raised on a valuation of $6million.
Elker proudly claims as clients leading law-firm Allens, the University of Melbourne, hospitality group Solotel, Women's Community Shelters, peak regulatory bodies, the Office of the Legal Services Commissioner NSW and the Victorian Legal Services Commissioner + Board and Japanese-owned transport and logistics company AirRoad. Each client supports its mission to not only foster understanding and inclusion, but to listen deeply to resolve issues, take on feedback, and make their spaces better and safer for all.