The Essential Guide to Whistleblowing Software [2023-2024]
Whistleblowing software is an invaluable tool in today's business environment. It aids in compliance with laws like the Sex Discrimination Act and the EU Whistleblower Directive and encourages employees to speak up on sensitive workplace issues like sexual harassment and discrimination. Additionally, it offers a transparent and accountable pathway for uncovering financial malpractice. This article will explore the key features of the leading tools in 2023-2024.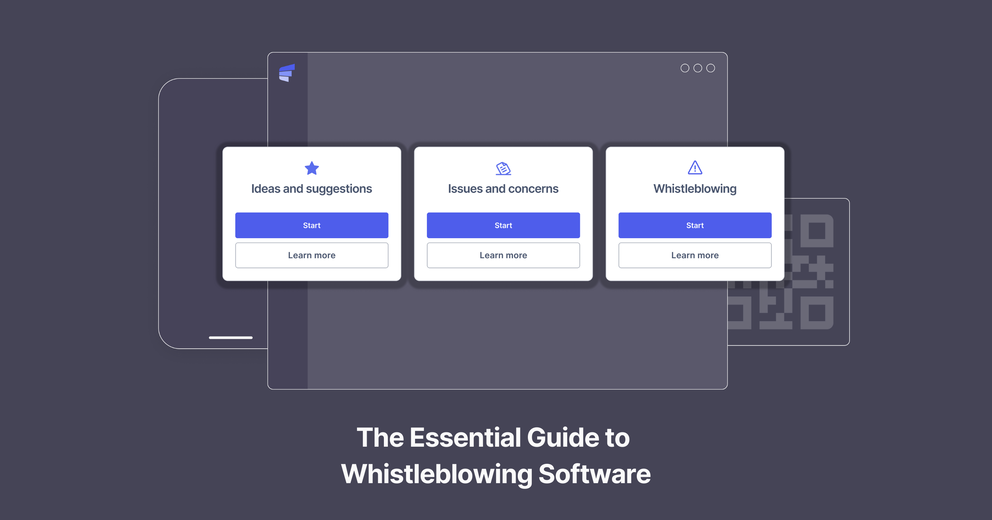 Key Takeaways
Whistleblowing software bolsters company culture and trust, enhances employee engagement, and guarantees regulatory compliance.
In choosing whistleblower software, features to evaluate should include anonymity, surveys, user-friendliness, integrations, and data protection.
To ensure adherence to laws such as GDPR, SOX, the Corporations Act 2001, and the Sex Discrimination Act, organisations must prioritise effective policy, training and communication in addition to a whistleblowing platform.
The importance of whistleblowing tools
There are many benefits of whistleblowing systems that we have discussed in this blog. Some of these include:
Employee safety: By providing a secure channel for employees to anonymously report unsafe practices or malpractice, whistleblowing software ensures a safer work environment where potential hazards are addressed before they escalate. These tools safeguard the wellbeing of employees by ensuring whistleblower confidentiality.
Openness and transparency in the workplace: Offering an anonymous reporting channel sends a clear message to employees: company leaders are listening, their voices matter, and they can speak up without fear.
Financial savings: On average, internal fraud deducts about 5% from a company's revenue. It is also estimated that sexual harassment costs Australian businesses and organisations $2.6 billion in lost productivity. Whistleblowing platforms can identify risks and reduce internal losses.
Reputation management: Without an effective whistleblowing solution, aggrieved parties might turn to external avenues, inviting unwanted media attention. A dedicated whistleblowing channel helps resolve issues internally, safeguarding an organisation's reputation.
Uncover opportunities: Beyond identifying misconduct, whistleblower software can serve as a channel for employees to share feedback anonymously. Organisations can pinpoint operational inefficiencies by collecting employee feedback and ideas or even uncover potential revenue avenues.
Employee retention: By utilising employee engagement metrics and feedback, businesses can respond effectively to issues in the workplace. A wrongdoing reporting management system can help organisations identify and address issues that impact employee satisfaction and ultimately improve employee engagement.
Regulatory compliance: From 12 December 2023, Australian businesses and organisations must comply with their positive duty under the Sex Discrimination Act 1984. It's now written into law: organisations must take proactive measures to eliminate sexual harassment in the workplace. Internationally, the EU Whistleblowing Directive and the Sarbanes-Oxley Act (SOX Act - US) require compliance with whistleblower protections and mandate the use of anonymous reporting channels.
Should I choose an all-in-one employee engagement solution or a dedicated whistleblowing system?
This is one of the questions that comes up time and time again. It's an important factor when deciding on a software solution for whistleblowing.
Full-featured employee engagement solutions, such as Culture Amp and Lattice, provide a wealth of features to manage the lifecycle of an employee. They even include anonymous feedback for reporting on workplace issues.
Employing an all-in-one solution rather than having multiple standalone tools may be tempting. We understand the frustration of adding another tool to the arsenal of software subscriptions and services needed to operate an organisation. However, there are some benefits of a dedicated whistleblowing platform to consider:
Trust: Employees may be weary of speaking up on a tool that claims anonymity but also manages their career development. A dedicated tool for sensitive disclosures adds an additional layer of reassurance to the reporter.
Compliance: Dedicated whistleblowing tools are explicitly designed for compliance with various national and international jurisdictions. There are very specific laws that deal with whistleblowing disclosures. Finding a company that understands and supports your local regulations can be critical.
Software development: Standalone whistleblowing platforms build features specifically for anonymous feedback and case management. Their development teams can react faster to legislative changes to compliance and features required of their clients.
Security: Without doubting the security features of employee feedback and engagement software, with dedicated whistleblowing platforms, data security and anonymity are a number one priority.
Tailored reporting mechanisms: Specialised platforms may offer more detailed and tailored reporting mechanisms, ensuring that whistleblowing concerns are escalated correctly and reach the right stakeholders without any unintended breaches of confidentiality.
Training and awareness: Many whistleblowing platforms also offer training modules or materials to help raise employee awareness about the importance of whistleblowing and how to use the system effectively. This can be crucial in ensuring the platform's success.
Integration with other systems: Dedicated whistleblowing platforms may offer more focused integrations than employee engagement tools. For instance, they might better connect with legal or HRIS systems to ensure that reports are handled correctly from a legal and human resource perspective.

Key features of a good whistleblowing platform
When considering a whistleblowing platform, you should be assessing the following features:
Security features
A secure system assures employees that their report is confidential and their anonymity is guaranteed. For organisations, stringent security measures are paramount in safeguarding intellectual property, maintaining business integrity, and protecting data from tampering and from external threats.
Look for: Make sure the platform assures whistleblower confidentiality by providing end-to-end encryption. Look for ISO 27001 standards, a dedicated information security officer and a data policy that aligns with your jurisdiction.
Anonymous reporting
Anonymous two-way communication, like a live chat, is important for realtime feedback to manage incidents. There should be multiple options for reporting disclosures: anonymous reporting (where your identity is completely cloaked) and confidential reporting (where your identity is visible to a select person or group).
Look for: Ensure the software has settings that allow reporters to remain anonymous. The platform should offer guidance and tips during the reporting process. This helps the individual maintain anonymity by advising against sharing overly specific details or personal information that might inadvertently reveal their identity.
Comprehensive case management
Case management is central to a whistleblowing system. The pathways for reporting should offer customisation and flexibility to accommodate both the reporter and the nominated officer. It's essential that reports can be efficiently directed to case officers, then tracked, monitored, resolved, and ultimately archived to effectively manage whistleblowing reports.
Look for: An ideal system will have intuitive features for routing reports to the appropriate officers alongside tools for realtime tracking and monitoring. It should also provide seamless methods for resolution and archival, ensuring that cases are handled comprehensively from start to finish.
Employee surveys
Pulse surveys, employee feedback, and reporting evaluations are important features of an employee feedback management platform to understand workers' concerns and get honest feedback about concerns facing your organisation.
Look for: Ensure the platform provides diverse survey tools, including report feedback, customisable templates, scheduled feedback sessions, and intuitive reporting systems that simplify data interpretation.
Analytics
The utility of a whistleblowing platform is amplified when it can predict trends, detect incidents early, and give an overview of case resolution stats, steering management towards actionable solutions.
Look for: A comprehensive dashboard with realtime data visualisations, trend analysis, and detailed report generation functionalities that highlight significant patterns and insights.
Usability
An effective whistleblowing platform should be easy to implement and easily navigable, allowing users to access and utilise its features without unnecessary complications. The ease of use can directly influence the app's safety, ensuring anonymity is protected throughout the reporting pathway.
Look for: A clean user interface, onboarding tutorials, and responsive customer support.
Mobile app
While not essential, a mobile app can extend the platform's reach, letting whistleblowers report and respond discreetly from their personal devices.
Look for: Check if the app is available on both iOS and Android, offers robust security features, and provides customisable notifications ensuring whistleblower privacy.
Integrations
Seamless integrations with other organisational tools and systems enhance the functionality of whistleblowing platforms. Such integrations can simplify workflows and maintain consistency across different platforms and cloud-based collaborative tools, ensuring efficient data management and retrieval.
Look for: Native integrations with popular HR systems and authentication methods (such as Google Workspace and Microsoft 360). Ensure the platform supports seamless data flow between systems without compromising security.
Data protection
Data security is paramount, given the sensitive nature of information handled by whistleblowing platforms. These systems must employ the highest standards of security protocols to protect every piece of data, guaranteeing confidentiality and trustworthiness. Platforms should comply with data protection regulations and have robust data security measures.
Look for: Certifications or standards like ISO 27001 or GDPR compliance, end-to-end encryption, and regular third-party security audits.
Compliance with national and international regulations
Ensuring your selected whistleblowing software adheres to both national and international regulations is critical. Depending on your operational regions, this could encompass adherence to laws such as the Sex Discrimination Act, Corporations Act, GDPR, SOX, or the EU Whistleblowing Directive.
Look for: Seek platforms that explicitly list the regulations they comply with and offer features tailored to these regulations. Choose a provider that conducts regular audits to maintain compliance and offers guidance on navigating complex regulatory landscapes.
Localisation
Businesses operating in different regions require whistleblowing platforms that cater to diverse languages and cultural norms. Adaptability to regional specifics ensures a more effective and user-friendly experience, encouraging broader usage and trust.
Look for: Multilingual support, region-specific content adaptation, and compliance with local data storage and protection laws.
Training
Comprehensive training sessions ensure users can effectively navigate and make the most out of the system, enhancing its overall utility and adoption rate.
Look for: Onboarding guides, webinars, a library of how-to articles, and integrated training modules. Training should cater to technical and non-technical staff, ensuring everyone can use the platform effectively.
Seats
As the size and structure of an organisation change, so does its need for managing different users on its platforms. A whistleblowing system must offer scalability to accommodate varying numbers of reporters and case managers, reflecting the organisation's evolving needs.
Look for: Flexible pricing tiers that accommodate the specific needs of your organisation. Avoid platforms that impose strict limits, as costs can quickly escalate. Many whistleblowing platforms offer custom pricing based on the size, features and legal support required by organisations.
Platform demonstration
Ensure the whistleblowing software offers demonstrations before you purchase. A demonstration offers firsthand insight into the functionalities and experience of the whistleblowing system. Additionally, it provides an opportunity for providers to grasp the unique structure and needs of your organisation, enabling them to tailor the platform's features and its pricing plan more precisely to your requirements.

Top Whistleblowing software solutions: a spotlight on Elker
While numerous whistleblowing platforms are available globally, choosing a solution that aligns with your specific needs and jurisdiction is essential. This choice is particularly important for Australian businesses, given the country's unique regulatory landscape. This is where Elker stands out.
Meet compliance
Elker is purpose-built for the Australian landscape. It remains unparalleled in its comprehensive alignment with crucial Australian legislations such as the Sex Discrimination Act 1984, Workplace Health and Safety regulations, Whistleblowing & Public Interest Disclosure Act 2013, and Respect@Work reforms.
Tailored integrity reporting and anonymity
With Elker, Australian businesses get more than just a reporting platform. From ensuring absolute anonymity in its two-way chat to offering advanced search & filtering tools, Elker prioritises the safety and trust of all stakeholders involved.
Adaptable case management
Every business has its unique operational rhythm. Elker's customisable workflows and exportable reports fit seamlessly into these processes, ensuring a smooth incorporation without upheavals.
Collaboration with legal experts
Elker was built by dispute resolution experts who understand the challenges unique to Australian organisations. For small to medium enterprises without dedicated legal officers, Elker can connect challenging cases with legal professionals. Whether it's sharing reports with advisors or mediators, it ensures the integrity and confidentiality of data at every step.
Data-driven insights
Elker's realtime dashboard provides businesses with a bird's eye view of their workplace culture, driving proactive measures for improvement and risk management.
Commitment to security and anonymity
While all platforms tout security, Elker's commitment is tangible. Adhering to ISO27001 standards and utilising end-to-end encryption ensures that data is treated with utmost confidentiality.
Australia-centric focus
The landscape of Australian workplace laws is ever-changing. Elker evolves with it, ensuring businesses remain ahead of the curve, meeting every regulatory demand while fostering a respectful, inclusive work environment.
Maintaining your integrity
Non-compliance and workplace issues can erode the trust and integrity built by your organisation. Elker acts as a safeguard, helping you identify potential challenges early and fostering an environment where employees feel truly valued.
Summary
Whistleblowing software has become an essential tool in the modern corporate landscape, serving as both a protective measure and a reflection of an organisation's commitment to transparency and ethical conduct. Selecting the best whistleblowing software is an intricate task, demanding consideration of factors like company size, industry, budget, and specific requirements.
As the corporate world evolves, so do its challenges. An effectively chosen and implemented whistleblowing software serves as a sturdy shield, safeguarding the integrity of organisations while fostering trust and accountability.
Ready to see the potential in action? Book a demonstration of the Elker platform and discover how we can support your organisation.